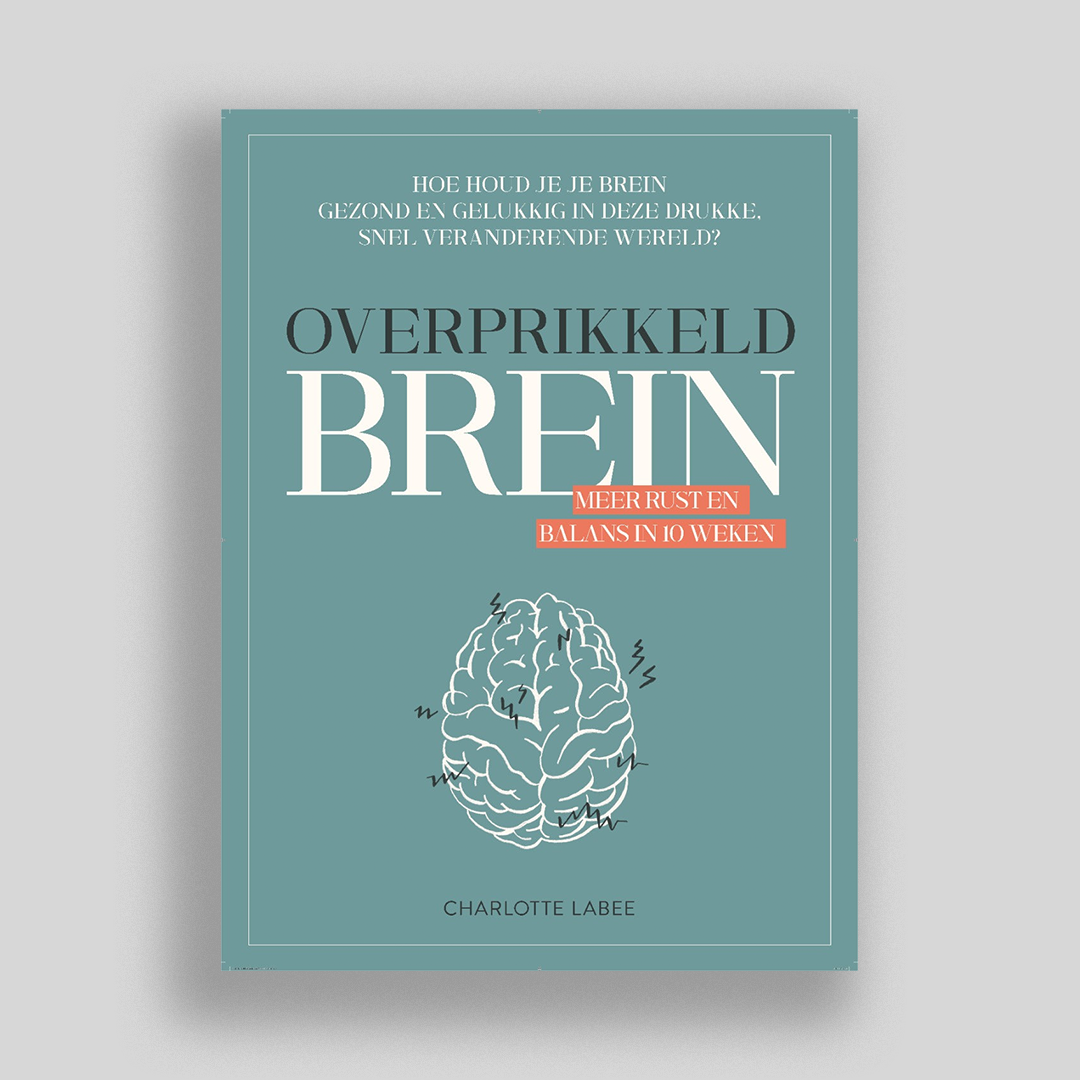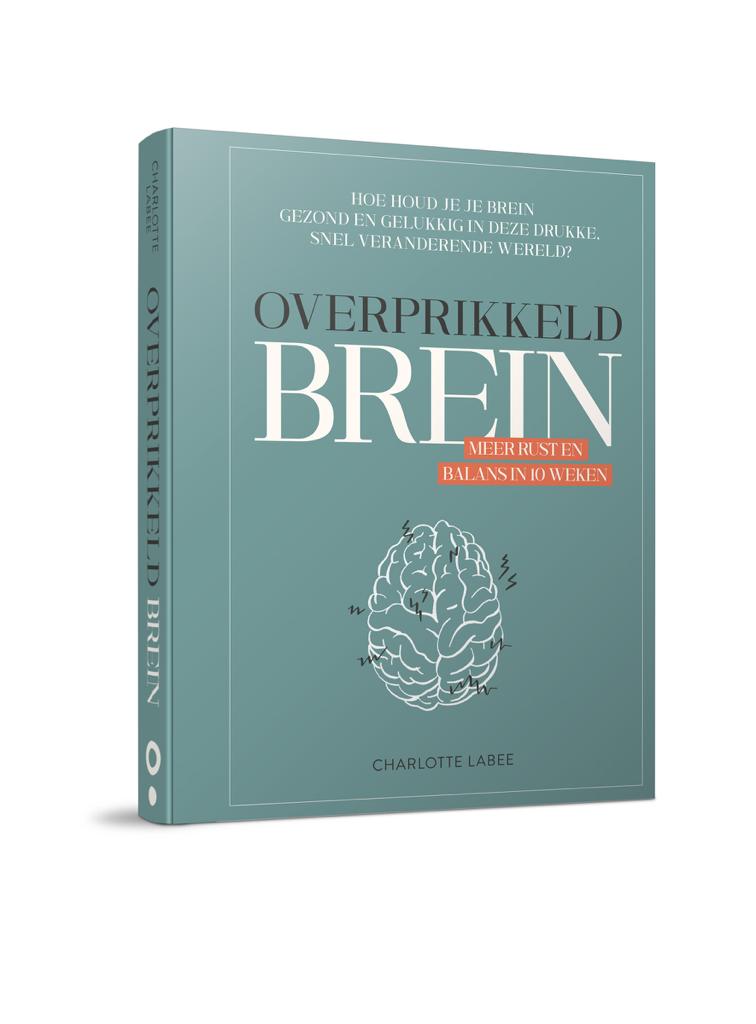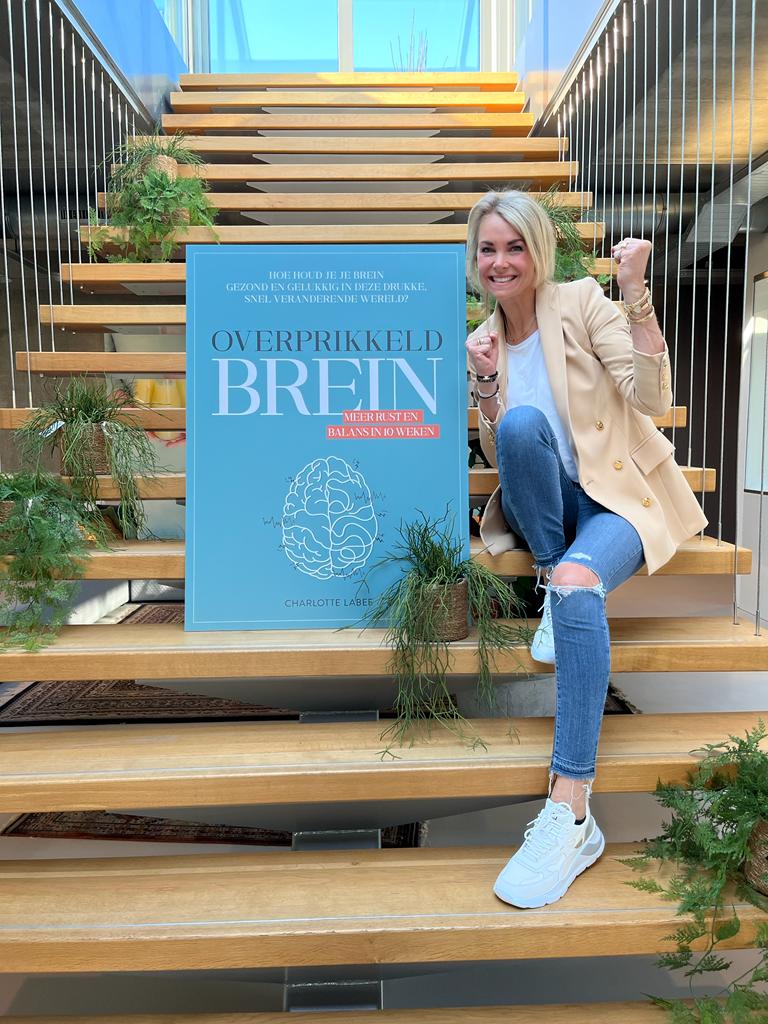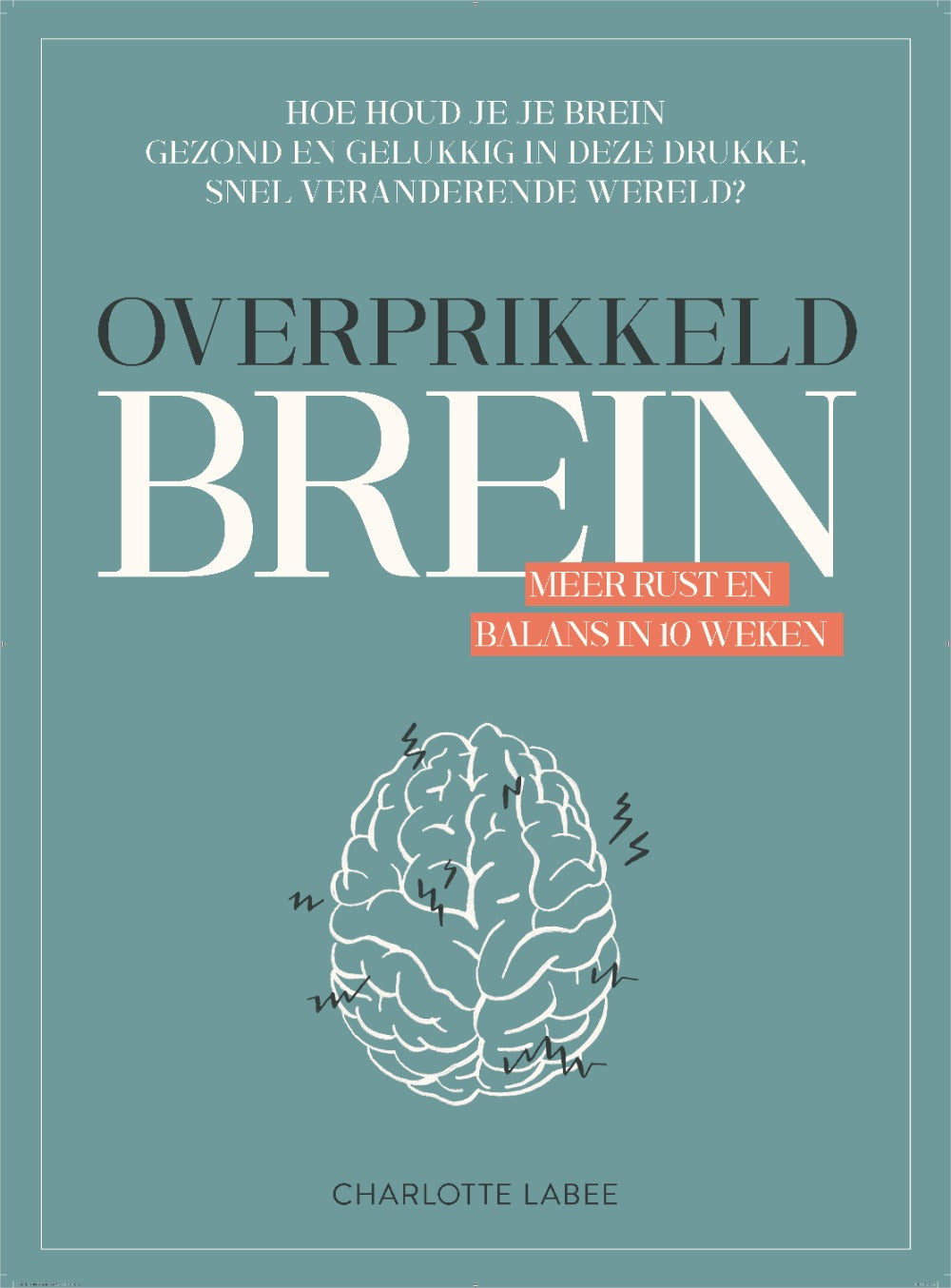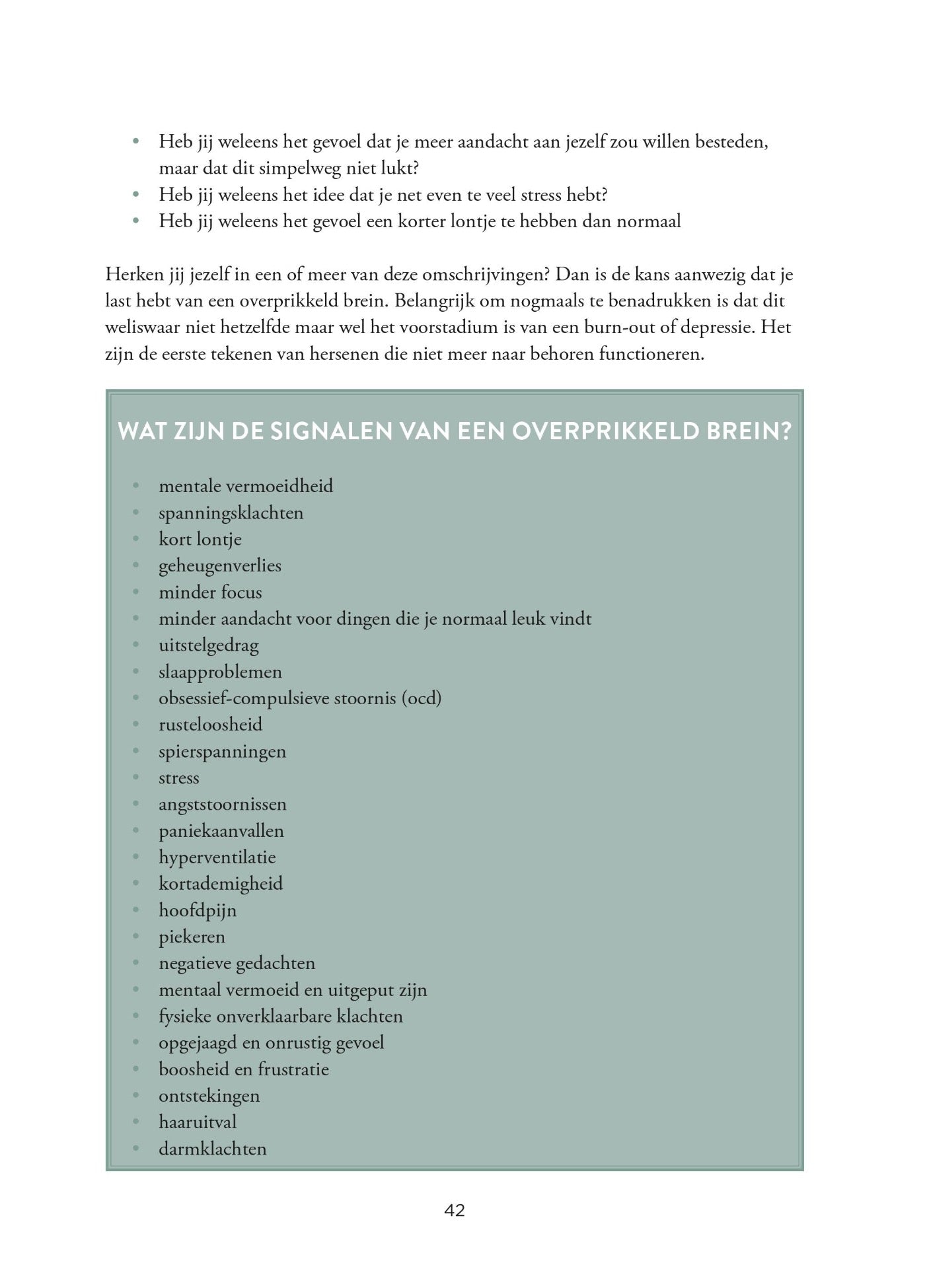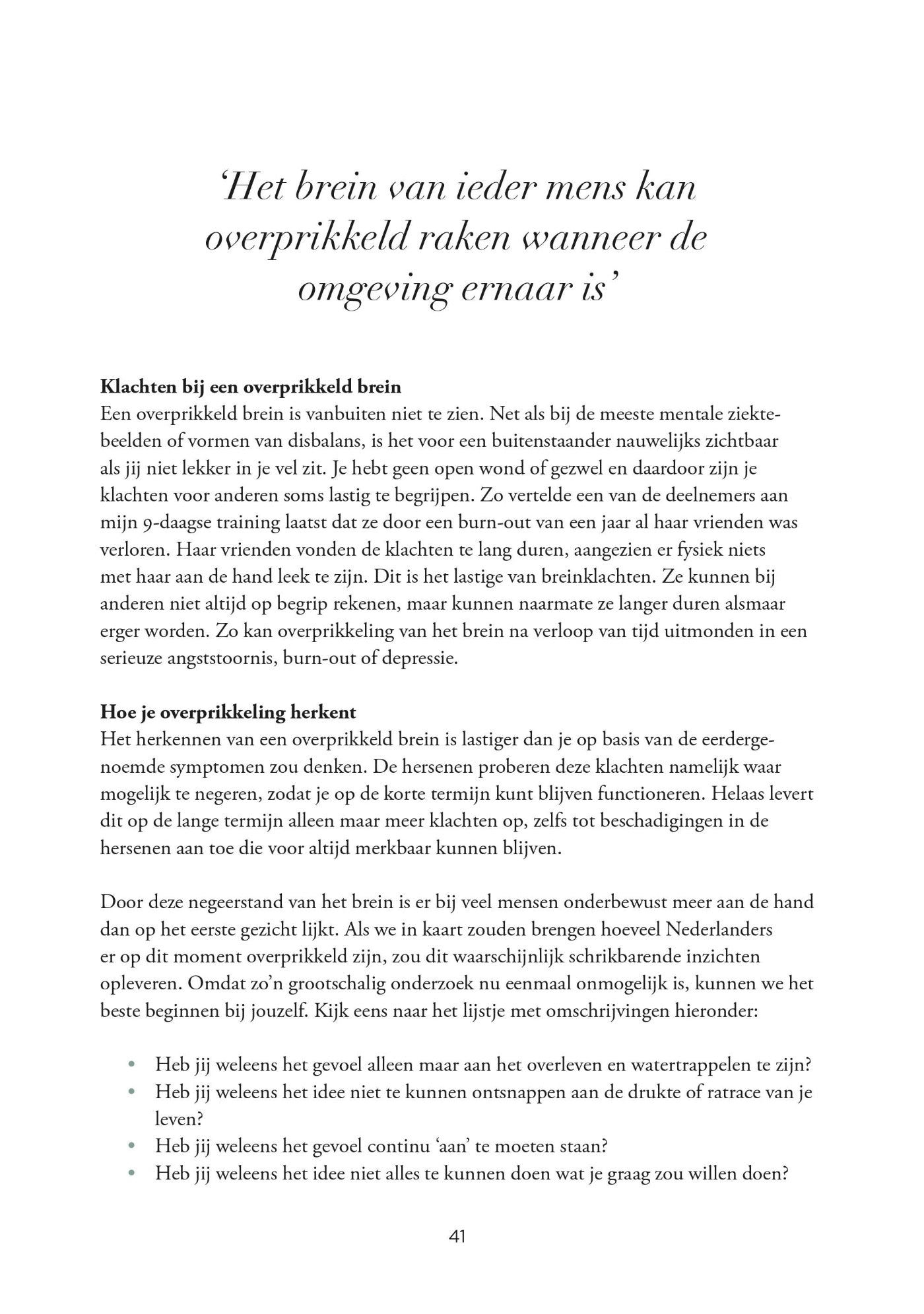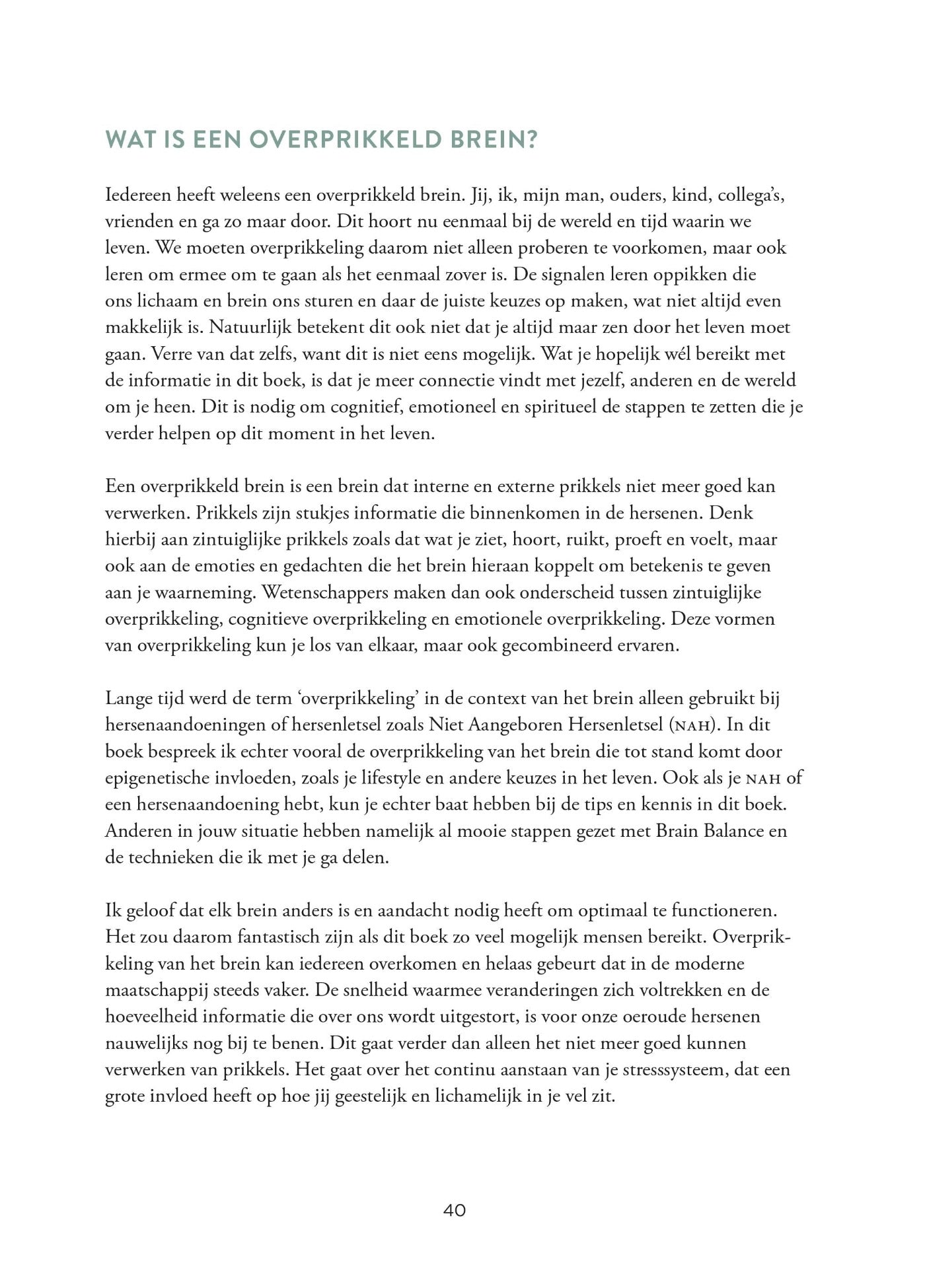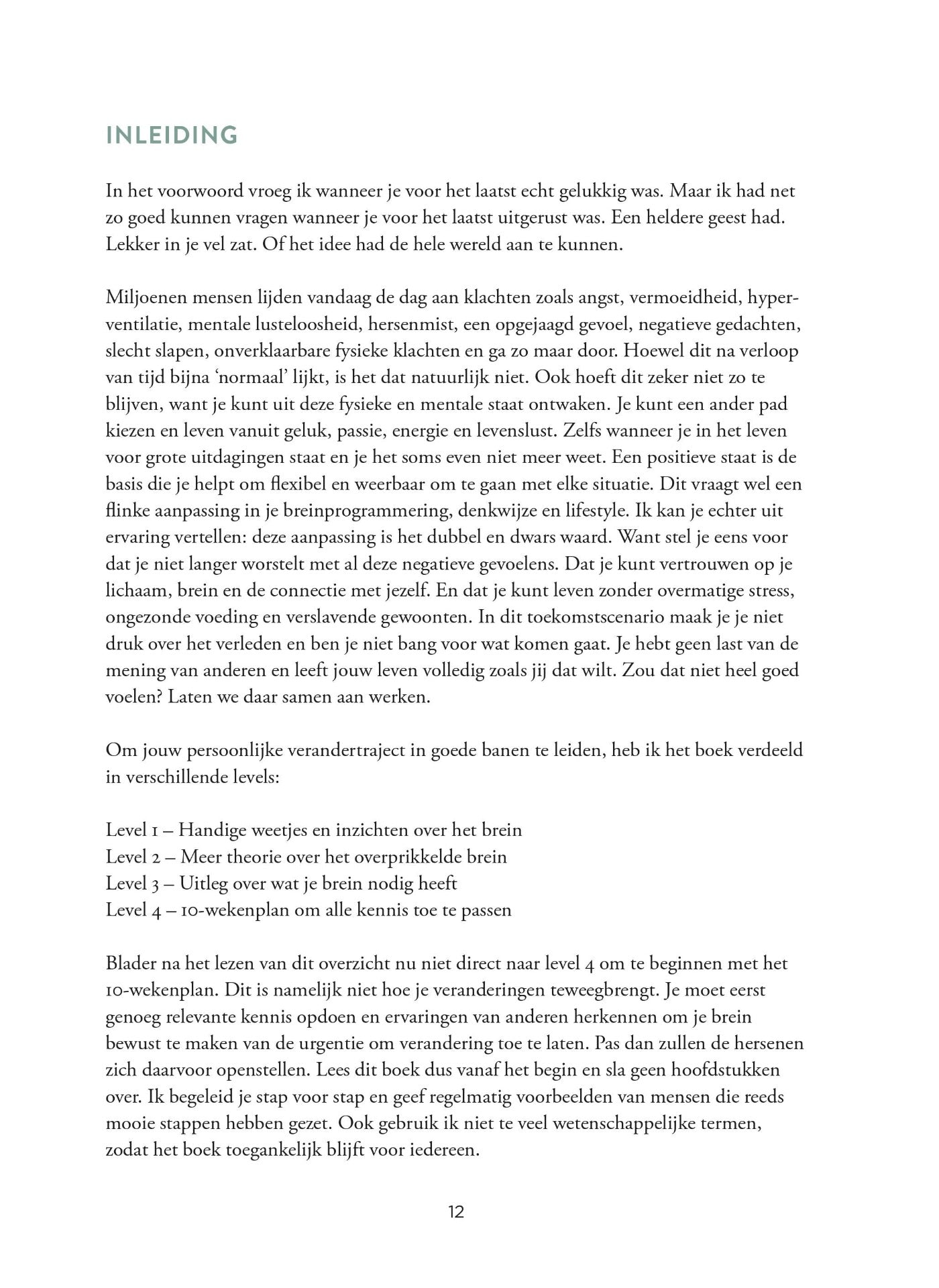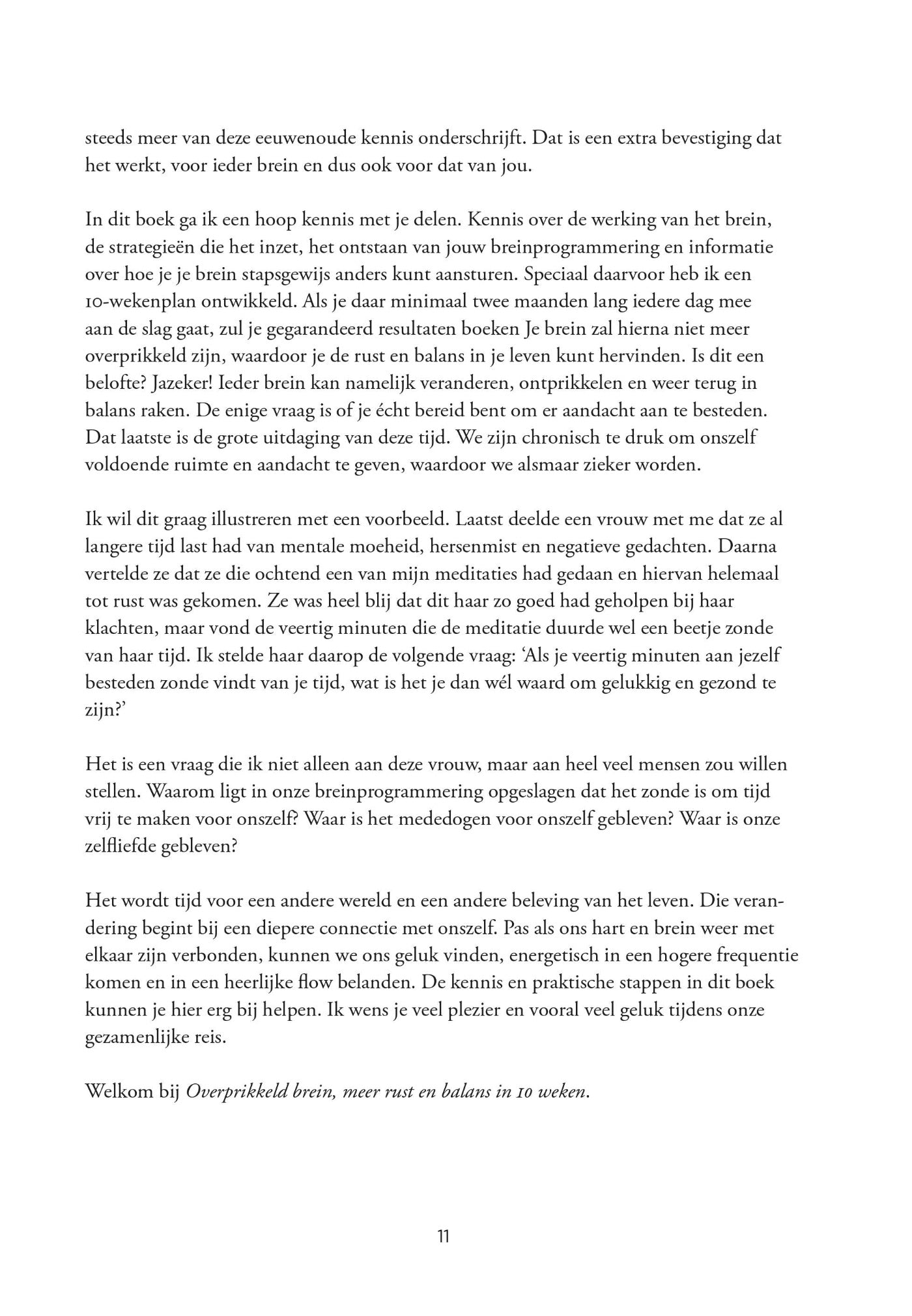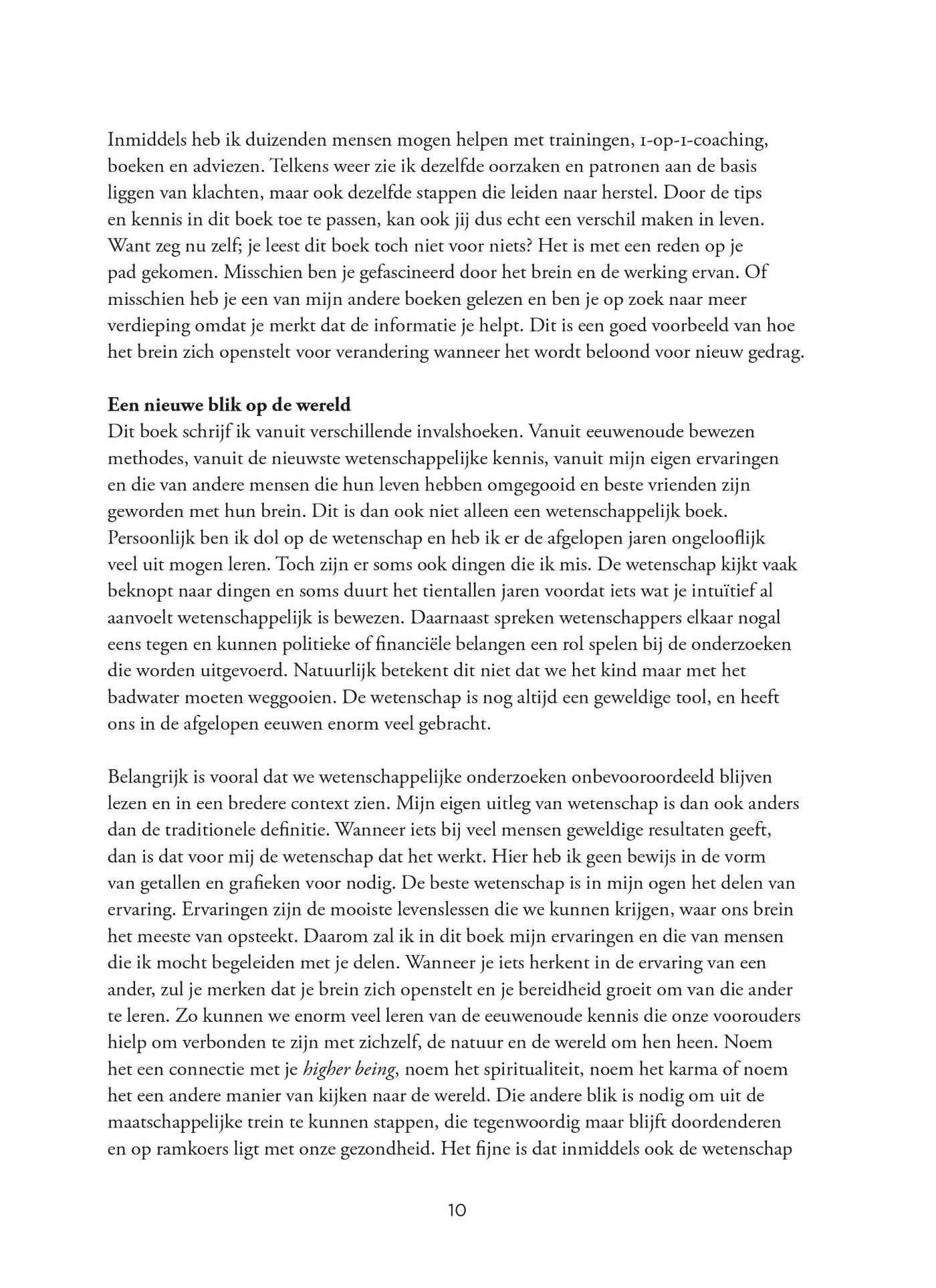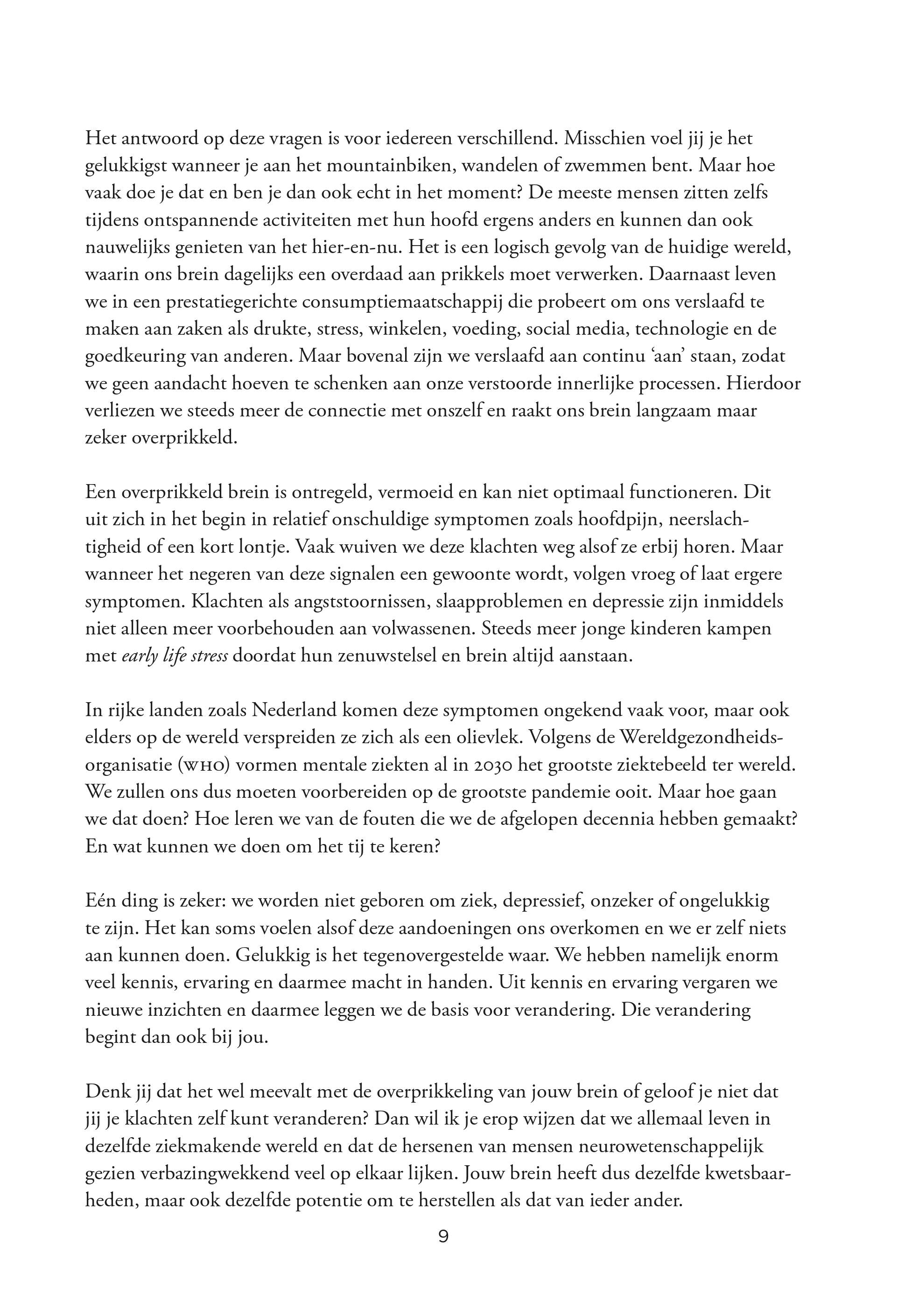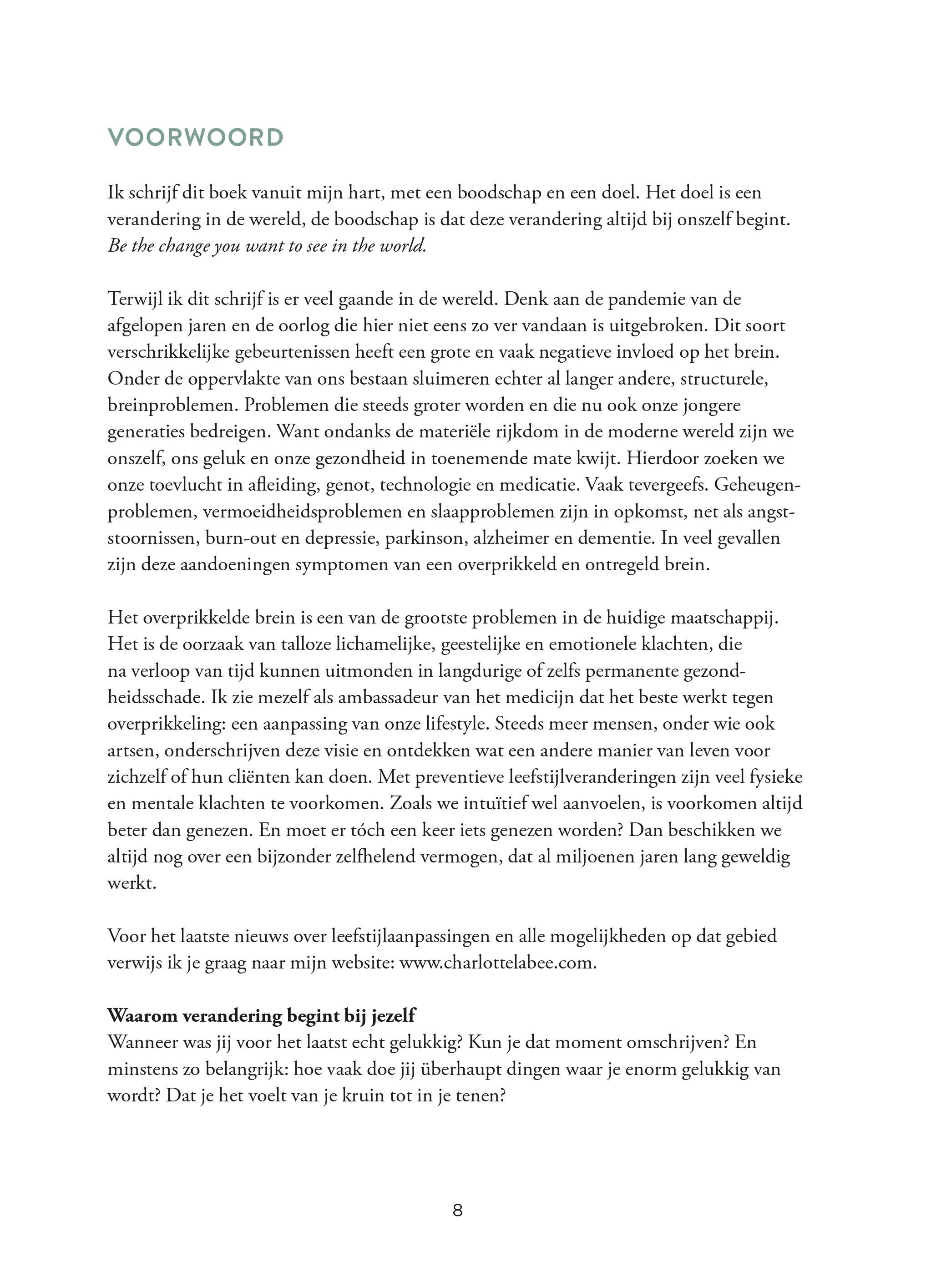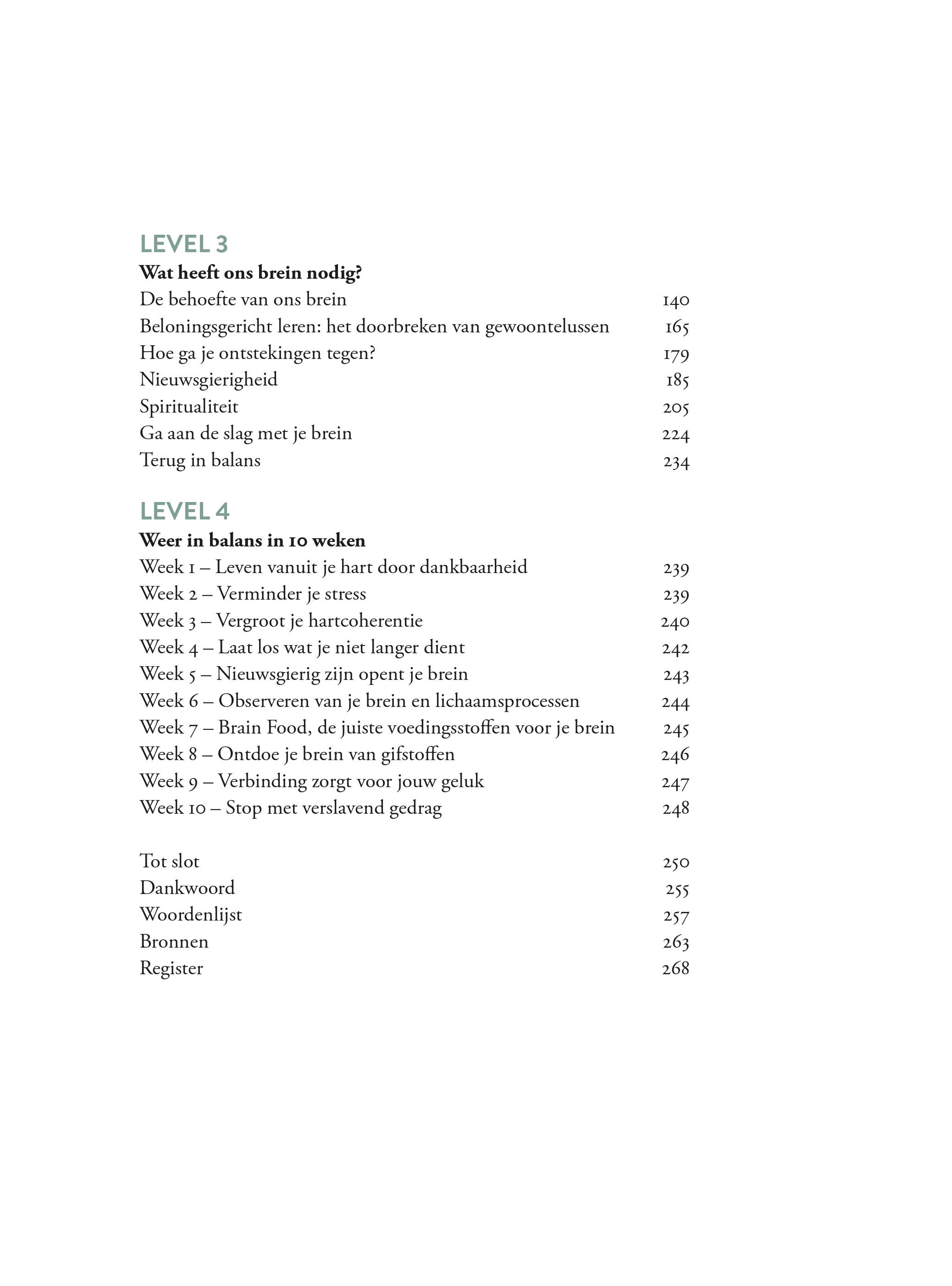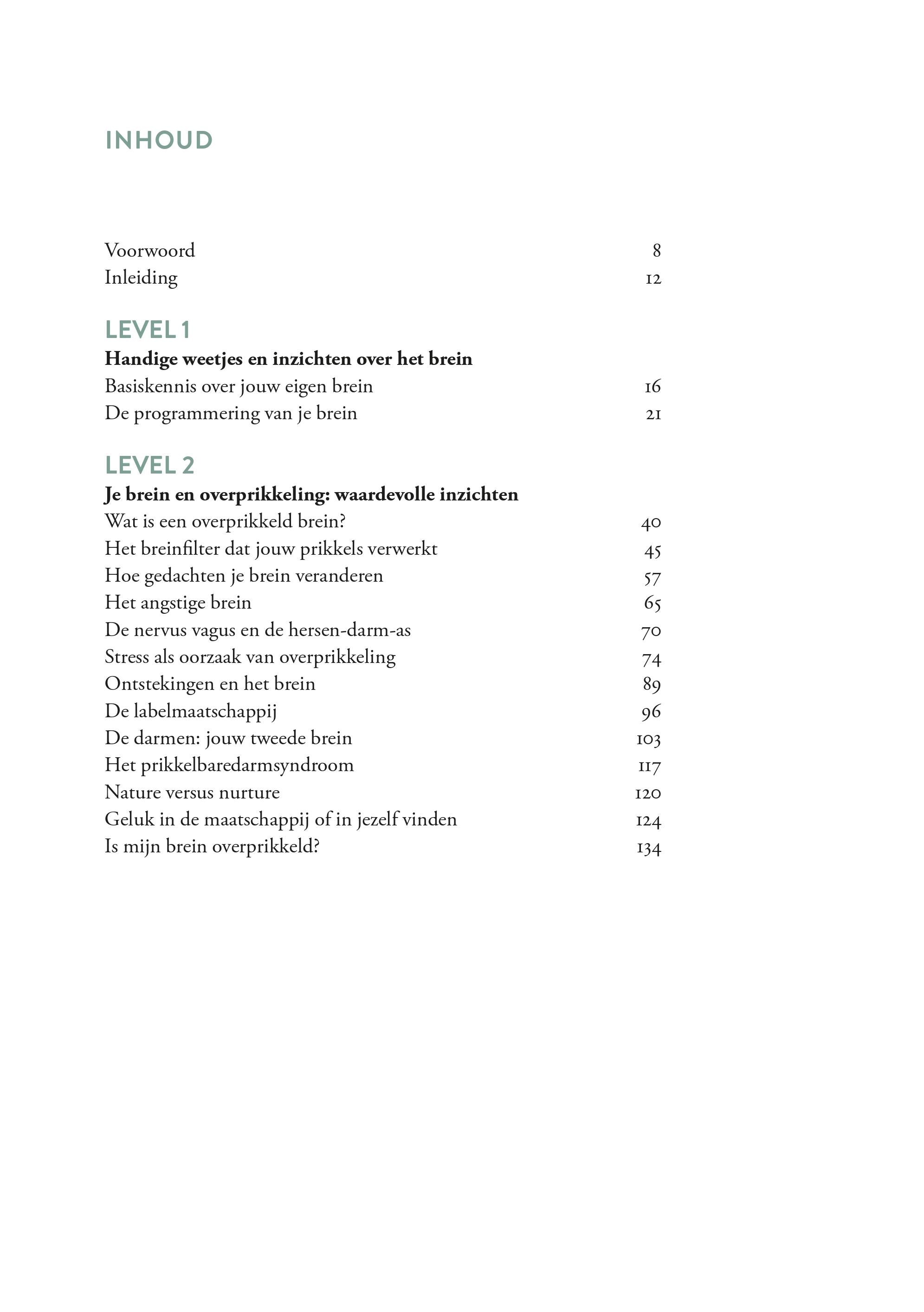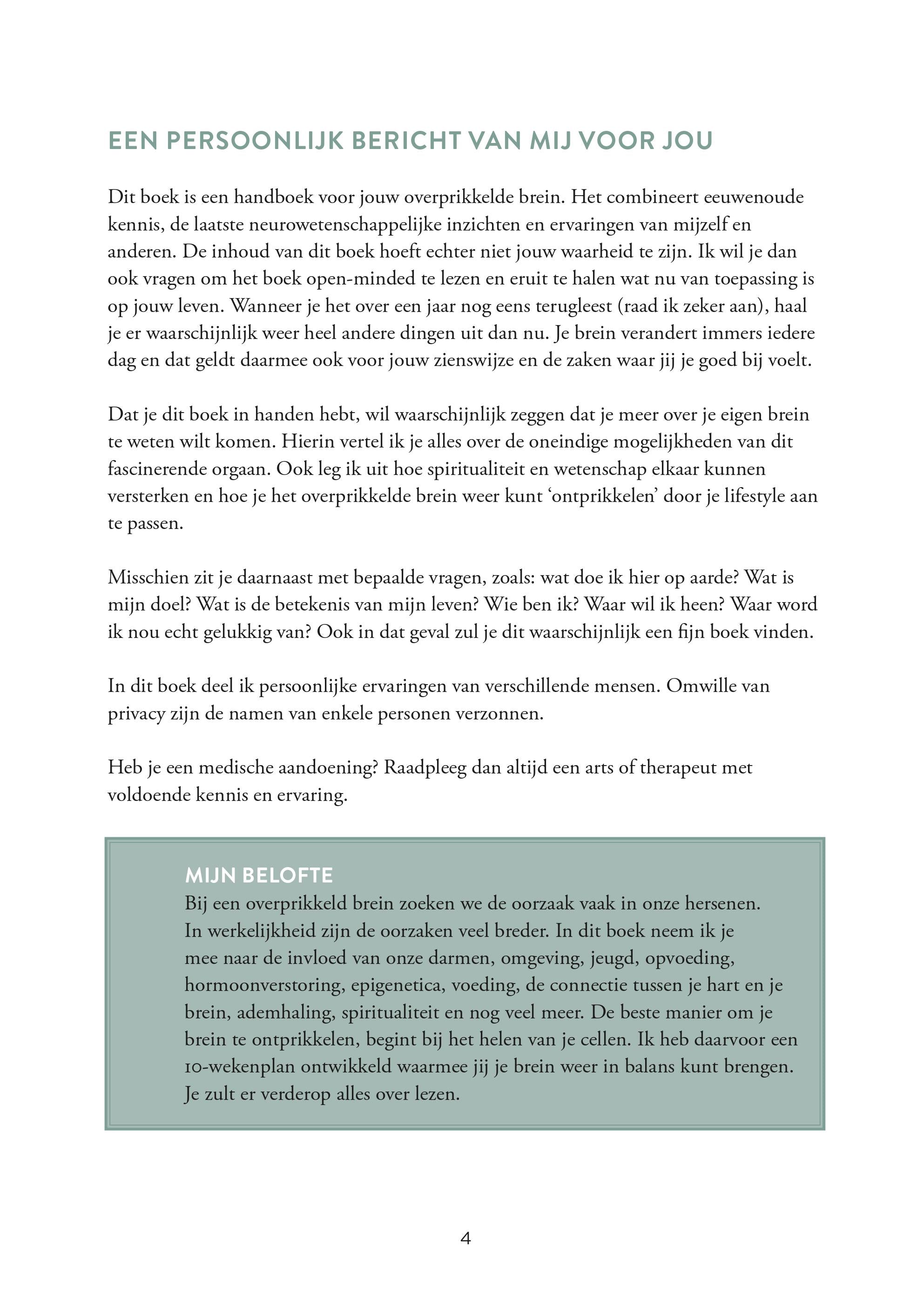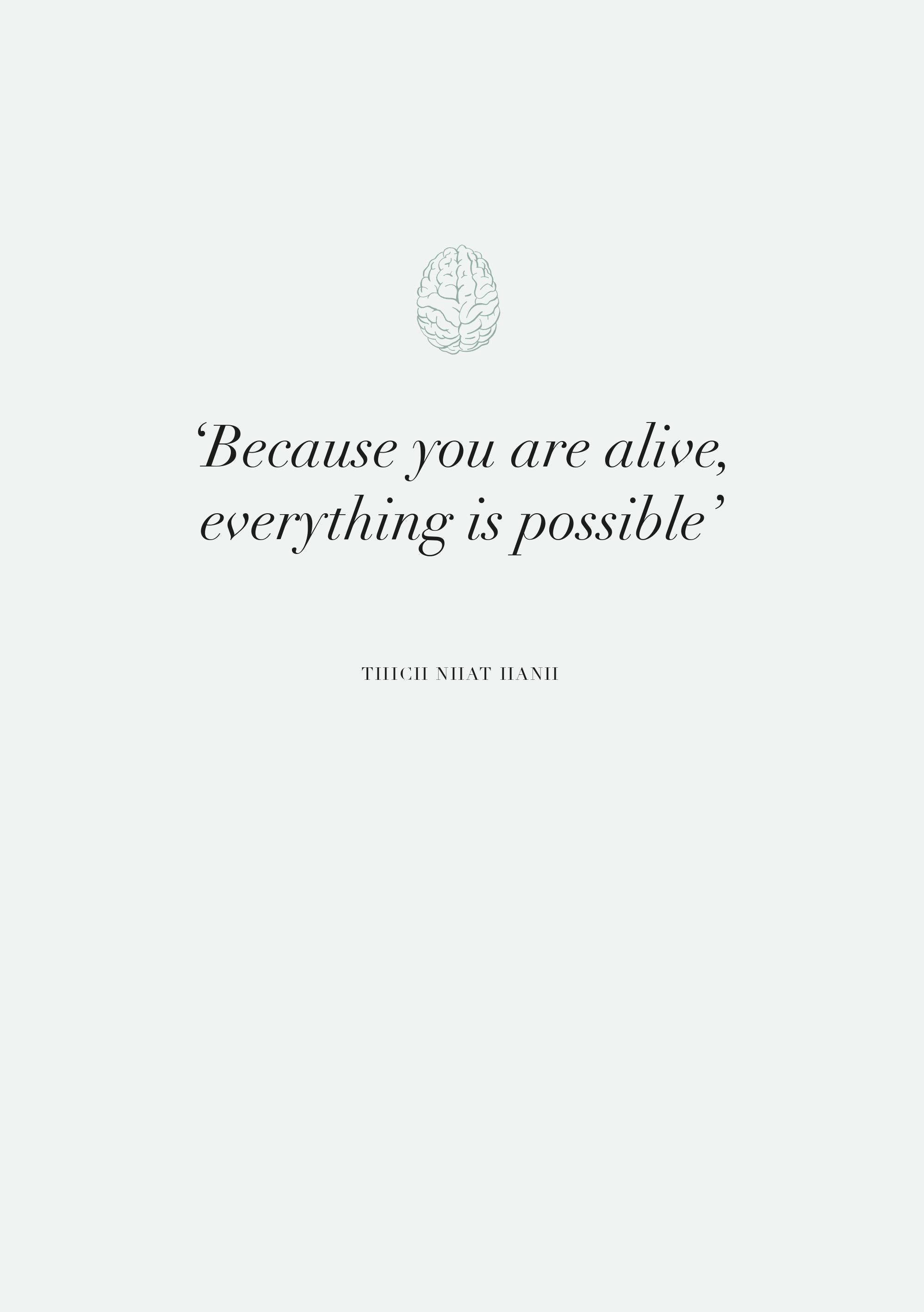 ---
Pickup is available at Brain Balance office, usually ready within 1 hour
Gratis verzending binnen NL bij orders van meer dan €40,-
Description:
Inmiddels meer dan 130.000 boeken verkocht , 6 weken nummer 1 bestseller, 5 maanden in de top 10 en 8 maanden in de top 60 bestsellerlijst van Nederland.
How to de-stimulate your brain in 10 steps with the book by Brain Balance expert Charlotte Labee
More than 1.2 million people have burnout complaints, and the number is growing. Brain Balance expert Charlotte Labee shares in this book the latest scientific knowledge about this urgent topic. Always being 'on', continuous stimuli through (social) media and performance pressure cause our brains to get overexcited. How does our brain deal with all the possibilities in modern society? Think of our excessive use of the telephone and social media, increasing feelings of stress, anxiety and restlessness, addictive behaviour, and the consumption of food that is bad for our brains and intestines.
10 steps to a calm and balanced brain
This book helps to recognise symptoms and to bring more peace to the brain within 10 weeks. In 10 simple steps in the field of nutrition, exercise, your heart coherence, the connection with yourself and relaxation, Charlotte Labee helps you on your way to a new balance and more peace.
Whole of the Netherlands healthy brain!
Brain expert Charlotte Labee has a clear mission for the Netherlands: 'It is my mission to give the Netherlands more knowledge about how the brain and the vagus nerve work and to show how you can make your brain healthy, energetic and alert with the right nutrition and lifestyle changes. Charlotte has already helped more than 100,000 people to achieve this goal through her books, coaching and lifestyle advice, training and education, social media, master classes, supplements and the Brain Balance Foundation she founded.  
Er gaat een wereld open
Charlotte schrijft zo duidelijk en helder op een begrijpelijke manier over het brein en alle bijkomende processen. Er ging echt een wereld voor me open na mijn burn out. Mijn tijd genomen en steeds kleine stukjes gelezen maar heb er echt van gesmuld om deze kennis op te doen.
Een boek wat ik zeker nog eens terug ga pakken en iedereen aanraad. Het inzicht in je eigen processen is van onschatbare waarde.
Overexcited Brain
Ik heb dit boek gelezen op advies van mijn fysiotherapeut, die mij een jaar lang begeleid heeft voor long-covid. Charlotte beschrijft precies de life-style die ik wil volgen en vasthouden. Alles wat ik in de afgelopen 5 jaar heb geleerd, beschrijft zij in 1 boek. Alles wat je moet weten voor een gezond en fit leven staat beschreven. Geweldig!
Leerzaam boek
Wat een top boek en duidelijke schrijfstyle. Al veel geleerd wat ook blijft hangen.
Definitely worth it!
The book already caught my attention several times in the bookstore, so I decided to buy the book. The expectation I had by the title "Over-stimulated Brain" turned out to be different from the content of the book, but the content was so interesting that I read the book in one breath. What a great book! The information in the book is clear and complete and was everything I needed at that moment. So special! I am definitely going to do more with it!
Great insights gleaned from the book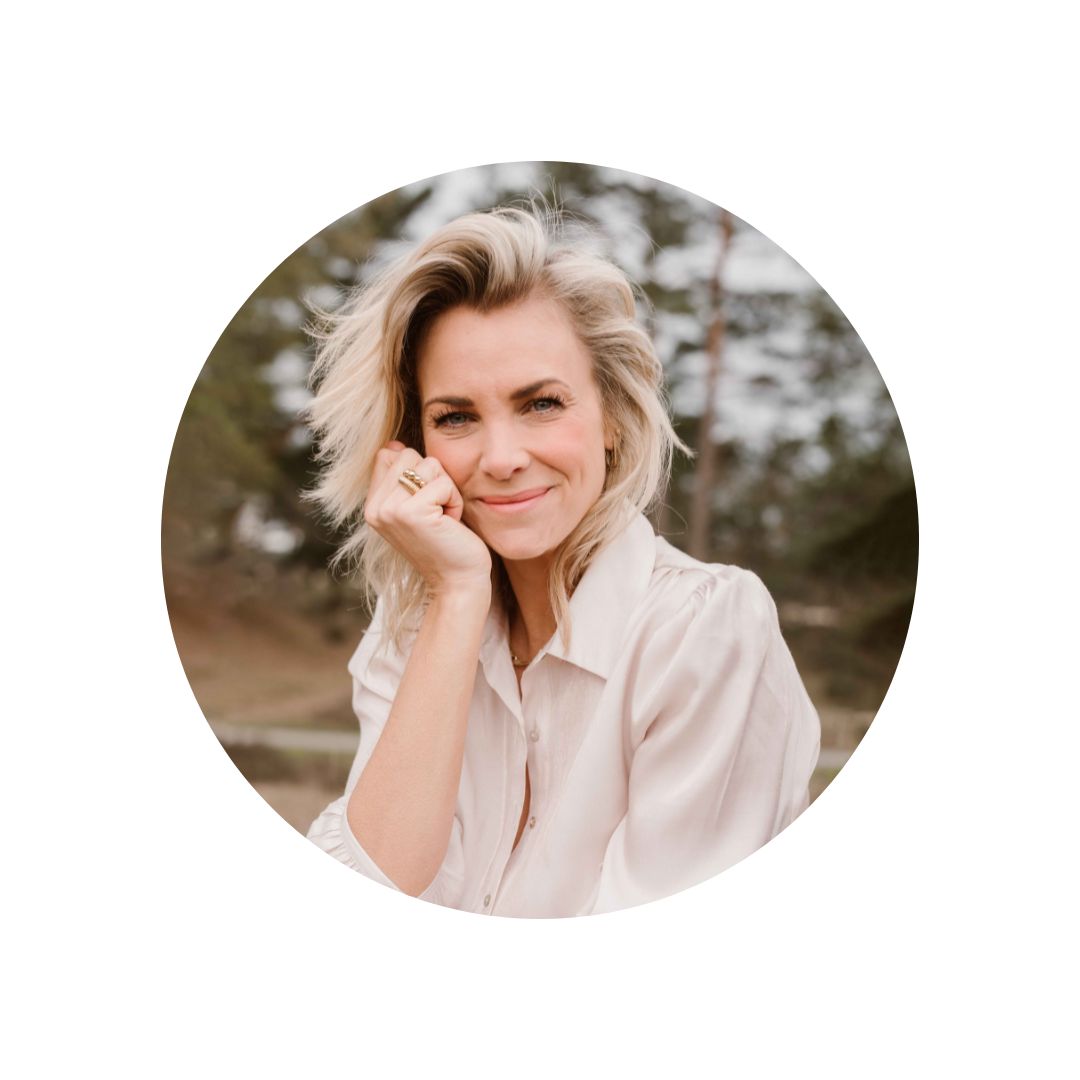 Who is Charlotte Labee?
Charlotte Labee is Brain Balance expert, founder of Brain Balance Institute and Charlotte Labee Supplements, speaker, trainer and author and helps people get in balance. In balance with themselves and their daily existence, allowing them to experience more happiness, health and joy in their lives. She has now completed various trainings including: 'Neural Cause Effects', Mody Mind Reset', EMDR, Hypnosis Therapy, Orthomolecular Therapy to epigenetics and many more. She is also the author and creator of the Brain Balance methodology.
Frequently Asked Questions

Where do you deliver?

We leveren in Nederland, België, Duitsland en Frankrijk. Wil jij iets bestellen en laten leveren in een ander land? Neem dan contact met ons op voor de mogelijkheden!  

When will my order be shipped?

Voor orders die voor de middag worden geplaatst proberen wij deze dezelfde dag nog te verwerken en te versturen. Levering zal dus doorgaans 1-2 werkdagen later plaatsvinden. Plaats je een order in het weekend? Dan verwerken we deze de volgende werkdag.

Wij verzenden met PostNL en bij verzending ontvang je van ons een track & trace code, zodat je je pakket kunt volgen.

If you are not at home, the parcel will be offered again. It will then be delivered to a pick-up location.

What are the shipping costs?

Binnen Nederland hanteren we 2 verschillende verzendkosten €4,95 voor een pakketje €2,95 voor producten die door de brievenbus passen, zoals boeken. GRATIS verzending bij bestellingen van meer dan €40,-

In België zijn de verzendkosten €4,95 voor een boek en €6,95 voor een pakketje.

In Europa zijn de verzendkosten €12,95. 

Buiten Europa zijn de verzendkosten €24,95.

Are you ordering a book and something else from the store? Then it will be sent together as a parcel.

Can I return my order?

Return conditions
You have the right to revoke the contract within a period of 14 days without giving reasons. The revocation period expires 14 days after the day you take physical possession of the good.   

Return notification
Report your return via info@charlottelabee.com to revoke the agreement.
Authenticity Policy

Reviews

Charlotte Labee thinks it's important that you know where our reviews come from. Anyone who visits our shop can leave a review. Customers who have purchased a product receive a verified buyer badge. This ensures the authenticity of the reviews. 

Both positive and negative reviews are posted on our website. Therefore, checking the reviews is done as soon as possible. In doing so, only reviews with policy violations such as spam or inappropriate content are not posted. In addition, no paid reviews are posted on the website. 

Products

All of Charlotte Labee's products are developed in the Netherlands.