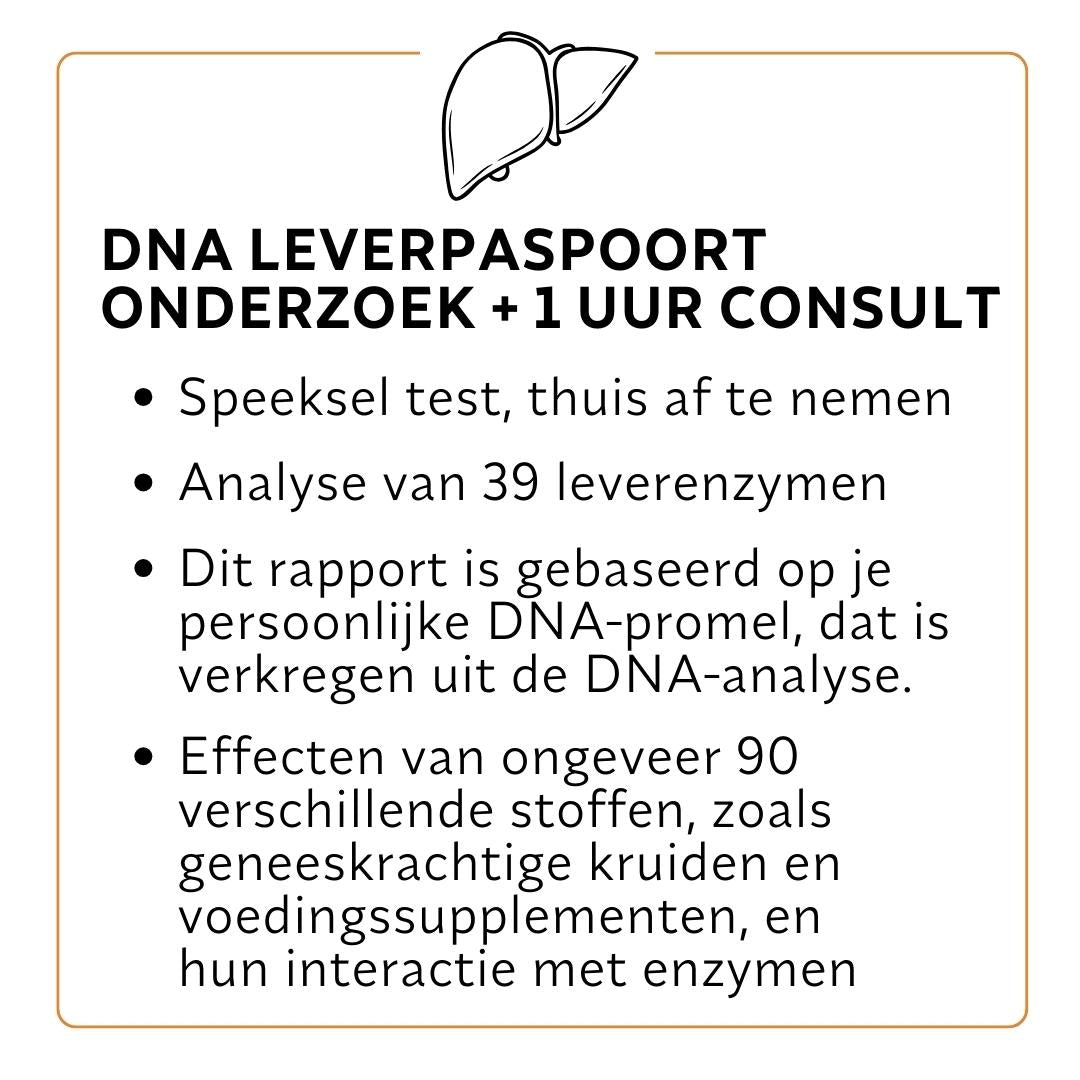 DNA Liver passport examination + 1 hour consultation
---
DNA Liver passport examination + 1 hour consultation
Description:
Waarom een DNA Leverpaspoort onderzoek?
Met het (DNA) Leverpaspoort is het mogelijk om preventief in kaart te brengen op welke medicijnen jij waarschijnlijk afwijkend reageert. In je persoonlijke Leverpaspoort zie je welke enzymen hierbij een rol spelen. Tevens worden kruiden, supplementen, voedingsstoffen en andere medicijnen in kaart gebracht die een remmende of stimulerende invloed op enzymen hebben. 
Hoe mensen op voedingstoffen, kruiden, voedingssupplementen en medicijnen reageren, kan per persoon verschillen. Zo worden curcumine en coffeïne bijvoorbeeld niet door iedereen even snel verwerkt. Dit komt mede door genetische variaties, die de werking van enzymen beïnvloeden.
Toch krijgen mensen over het algemeen dezelfde dosering van een medicijn of supplementen voorgeschreven. Blijkt een middel niet aan te slaan? Of treden er bijwerkingen op? Meestal wordt dan pas de dosis aangepast. Of een ander middel gekozen.
De volgende enzymen worden geanalyseerd:
ABCB1 transporteiwit, ALDH2-enzym, BChE-enzym, COMT-enzym, CYP1A1-enzym, CYP1A2-enzym, CYP1B1-enzym, CYP2A6-enzym, CYP2B6-enzym, CYP2C19-enzym, CYP2C8-enzym, CYP2C9-enzym, CYP2D6-enzym, CYP2E1-enzym, CYP2F1-enzym, CYP3A4-enzym, CYP3A5-enzym, CYP4F2-enzym, DPYD-enzym, Factor V Leiden, F2, PROC+, PROS1+, SERPINC1, G6PD-enzym, GSTM1-enzym, GSTP1-enzym, GSTT1-enzym, HLA-A*3101, HLA-B*1502, HLA-B*5701, IL28B, MTHFR-enzym, NAT1-enzym, NAT2-enzym, NQO1-enzym, NUDT15-enzym, PON1-enzym, SLCO1B1-transporteiwit, SULT1A1-enzym, SULT1E1-enzym, TPMT-enzym, UGT1A1-enzym, VKORC1-enzym.
Wat kun je met de uitslag van een DNA onderzoek gezondheid?
Je ontvangt jouw persoonlijke uitslag digitaal. Om te voorkomen dat het een theoretisch verhaal wordt is al deze informatie erop gericht om te komen tot persoonlijke aanbevelingen die tastbaar zijn voor jou. Met deze aanbevelingen loop je samen met onze therapeut in een consult van 1 uur door de resultaten en hoe je hiermee aan de slag kunt.
Hoe werkt een DNA onderzoek?
De DNA test is een zelftest die je makkelijk en snel thuis kunt afnemen. Na je bestelling ontvang je de DNA testkit thuis. Je hoeft alleen een sample speeksel af te nemen en te versturen via de retourenvelop. Je sample wordt onderzocht in een gecertificeerd Europees laboratorium voor een betrouwbaar resultaat. Zes weken na het versturen van je sample ontvang je de uitslag en kun je na het plannen van jouw consult deze samen met onze therapeut doornemen. 
A lot of knowledge
It was a very nice, open conversation with Marieke Kok. She has a lot of knowledge and makes a good link between theory and practice, so that the information obtained can be applied immediately.
How cool this research! Happy with it
I am very happy that I gave myself this gift, it is a great insight for the rest of my life, with a beautiful book that literally says everything, what you can improve, what type of sleep you are, how your stress is genetically processed, which vitamins and minerals you absorb less well and which well.
It was really cool how I was guided by Kirsten, she is my therapist and she helped me so much. She gave me beautiful new insights. I am going to work with that!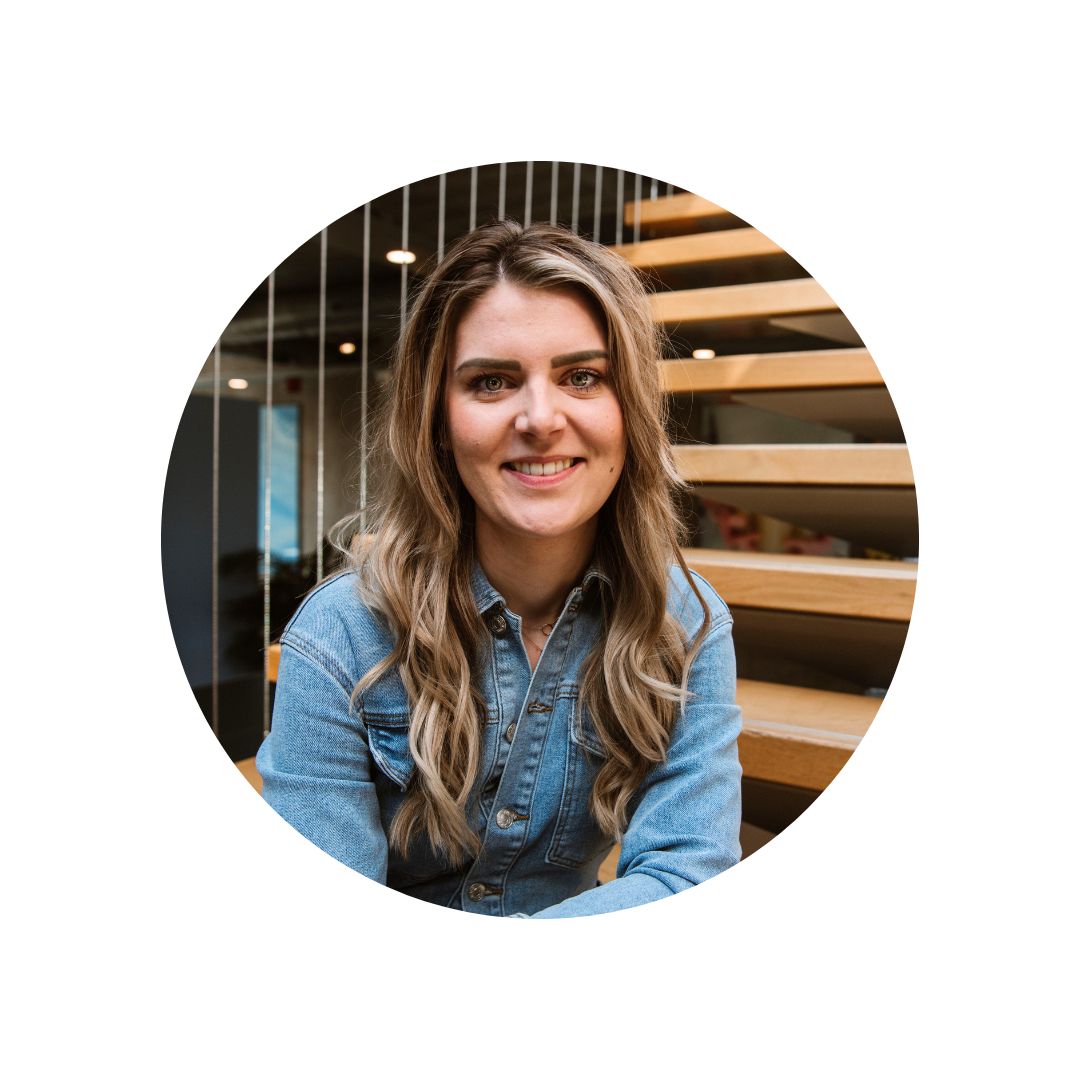 Supplements advice needed?
Joyce is Orthomoleculaire Therapeut en in opleiding tot Orthomoleculaire Epigenetisch Therapeut. Haar passie voor het vak is een aantal jaren geleden ontstaan nadat ze zelf gezondheidsklachten kreeg. In die periode kwam ze erachter dat alles in het lichaam met elkaar in verbinding staat, en dat lifestyle hier veel invloed op heeft. Ze helpt mensen met veel liefde om de verbinding met zichzelf terug te vinden. Bij Joyce kun je terecht voor:
- Supplements advice both by phone and email
- Advice and purchase of the supplements at our office
Frequently Asked Questions

Where do you deliver?

We deliver to the Netherlands, Belgium, Germany and France. Would you like to order something and have it delivered in another country? Please contact us for the possibilities!  

When will my order be shipped?

For orders placed before noon, we try to process and dispatch them on the same day. Delivery will therefore usually be 1-2 working days later. Do you place an order during the weekend? Then we will process it the next working day.

We ship with DHL and upon dispatch you will receive a track and trace code, so you can follow your package.

If you are not at home, the parcel will be offered again. It will then be delivered to a pick-up location.

What are the shipping costs?

Within the Netherlands we have 2 different shipping costs:

€4,95 for a parcel €2,95 for things that fit through the letterbox, such as books. FREE shipping for orders over €75.

Are you ordering a book and something else from the store? Then it will be sent together as a parcel.

Outside the Netherlands, you pay the shipping costs relevant to that can.

Can I return my order?

Return conditions
You have the right to revoke the contract within a period of 14 days without giving reasons. The revocation period expires 14 days after the day you take physical possession of the good.   

Return notification
Report your return via info@charlottelabee.com to revoke the agreement.
Authenticity Policy

Reviews

Charlotte Labee thinks it's important that you know where our reviews come from. Anyone who visits our shop can leave a review. Customers who have purchased a product receive a verified buyer badge. This ensures the authenticity of the reviews. 

Both positive and negative reviews are posted on our website. Therefore, checking the reviews is done as soon as possible. In doing so, only reviews with policy violations such as spam or inappropriate content are not posted. In addition, no paid reviews are posted on the website. 

Products

All of Charlotte Labee's products are developed in the Netherlands.